Add a header to begin generating the table of contents
Replacing your existing grow light
This Guide helps you to find the right LED grow light Solution. We compare different grow lights so you can easily replace your existing setup with a state of the art LED grow light.
Common Technologies:
HPS – High-Pressure Sodium
CFL – Compact Fluorescent Light
CMH – Ceramic Metal Halide / CDM – Ceramic Discharge Metal-Halide
This Table Compares the lights based on the PPF – Photosynthetic Photon Flux.
hortiONE LED Grow lights are near to full-spectrum and can be used for all growing stages. (vegetation and flowering)
Grow Light

hortiONE Replacement

Comment

250W HPS 450µmol/s

1x hortiONE 592
190W - 500µmol/s

60W Energy Saving & 25% more light

600W HPS - 1000µmol/s

2x hortiONE 592
380W - 1000µmol/s

220W+ Energy Saving

1000W HPS 1600µmol/s

3x hortiONE 592 - 570W

430W Energy Saving

CFL - Fluorescent tube 58W - 73µmol/s

260W CFL = 1x hortiONE368, 130W 330µmol/s

Almost double of the efficiency

315W CDM / CMH - Ceramic Metal Halogen 650 µmol/s (3100K)

2x hortiONE 368 660µmol/s

55W Energy Savings
higher lifetime & more continuous spectrum
Applications in closed cabinets - The right distance from lamp to the canopy
The following applications samples for hortiONE LED Grow lights are based on best practice for a short day and flowering plants with high light demand. 
The Environment is a closed grow-cabinet with light refraction at each side. In open cultivation areas without reflecting walls, the distance must be decreased by about 20%
This guide is designed to achieve light intensities of 400µmol/m²s in vegetative phase and 600µmol/m²s in the flowering phase. Both Values lead to a Daily Light Integral (DLI) of 26 mol/m²d (More About DLI)
Depending on your growing experience, plant genetic, use of artificial CO2 the recommendations can vary. Please contact us if help is needed.
Small grow tents and cabinets
60x60cm (0,36m²) / 2ft x 2ft (3,88 ft²): 1x hortiONE 367
80x80cm (0,64m²) / 2,6ft x 2,6ft (6,89ft²): 1-2x hortiONE 368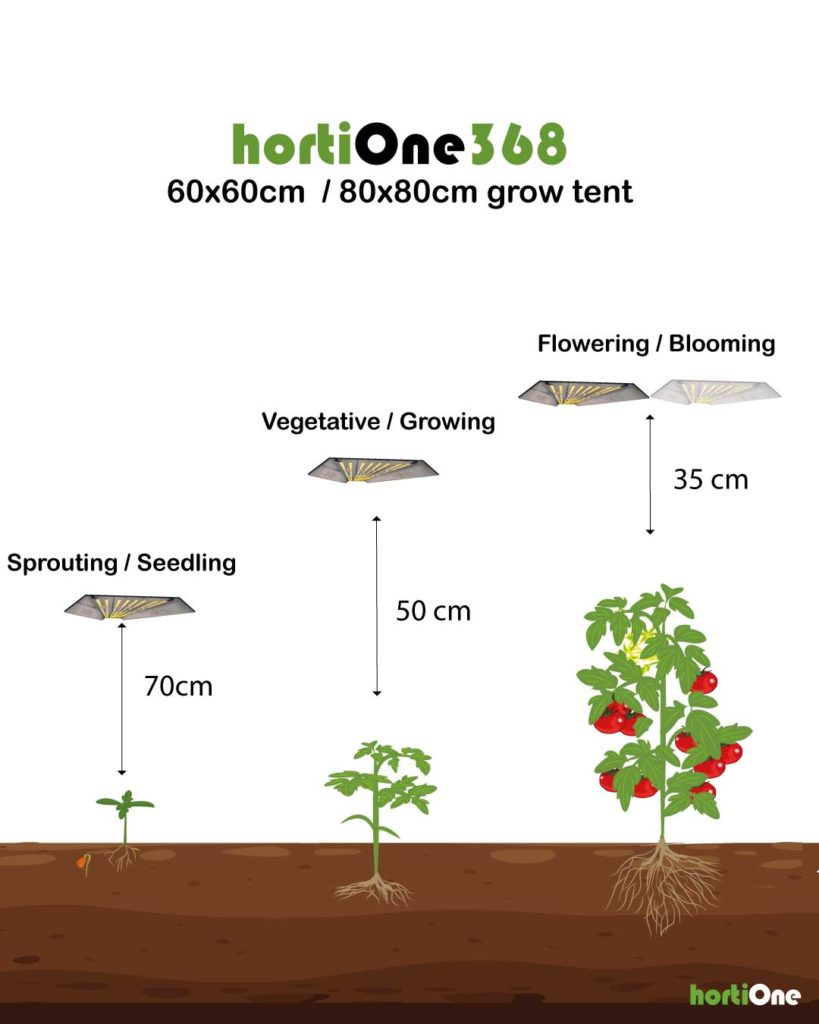 The 45° angled board leads to a homogenous light distribution in your cultivation area. 
From 1m² to big cultivation areas
100x100cm (1m²) / 3,3ft x 3,3ft (10,76 ft²): 2x hortiONE 592
120×120 cm (1,44 m²) / 4 ft x 4 ft (15 ft²): 2x hortiONE 592
150×150 cm (2,25 m²) / 5ft x 5ft (24,2 ft²): 3x hortiONE 592
Big Areas: We are happy consulting you regarding the right solution for your project.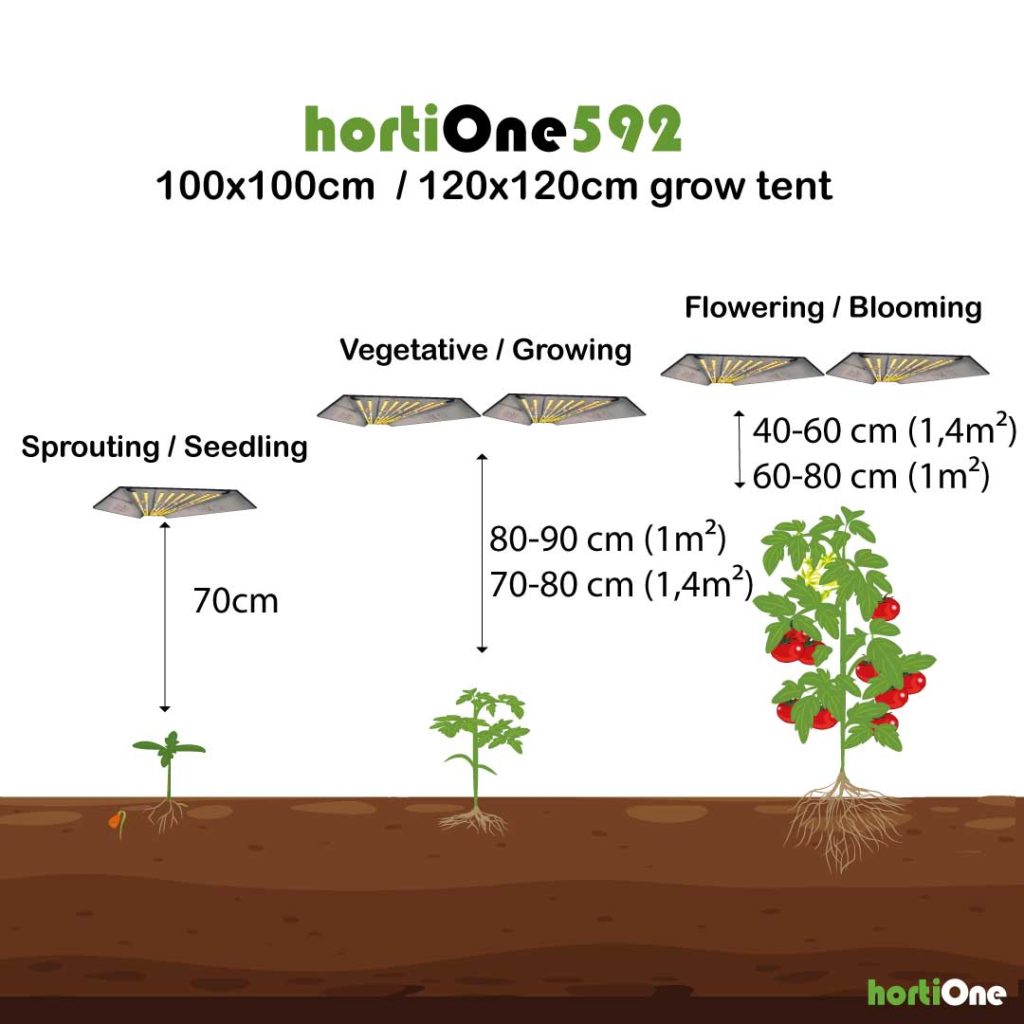 Measuring the Light intensity
To measure the light intensity, a quantum spectrometer is required to measure differences in the light spectrum and get a ppfd value in µmol/m²s.
Side-Note: do not confound with PPF Value which can only be measured using an Integrated Sphere.
Our Standard-Recommendations are
400µmol/m²s – vegetation
600 µmol/m²s – flowering.
Measuring the light intensity gives you the possibility to adjust your setup and distance between lamp to the canopy until the right uniformity and intensity are achieved.
It is possible to convert a LUX-Value to a PPFD value. 
Attention:
this conversion is only valid if one single spectrum is measured. Be sure that no other light source illuminates towards your measurement area.
The used LUX-Meter or even smartphone app must be calibrated to receive the right results. Especially results from smartphones can vary tremendously.
This tool can be used to convert your LUX-Values to PPFD values for hortiONE LED GROW Lights.
Custom Area? - Calculation
The size of your cultivation area wasn't mentioned in the article? The Planner below helps you to estimate the right amount of hortiONE Units for your cultivation Area.